Site Awards and Notable Mentions
03/29/00 - We've been given the April 2000 "Honoree" Award for sophistication from the Inner Light Lounge.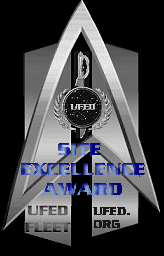 11/29/99 - Shadow Operations received the UFED RPO site award for excellence in design and easy to navigate format. Yay! Our FIRST award! I think we're getting noticed more because in the past 8 months I've been submitting the site to search engines and webrings, hoping to bring in more players. It's finally coming to fruition!

11/25/99 - Shadow Operations is listed as one of the top six PBEMs on the internet in the newly published The Incredible Internet Guide for Trekkers by James R. Flowers, Jr.. We're on page 148. Yee ha!
10/01/99 - Shadow Operations was spotlighted in this month's issue of The Captain's Log! We got a good review!
---

Star Trek®, Star Trek The Next Generation®, Star Trek Deep Space Nine® and Star Trek Voyager® are registered trademarks of Paramount Pictures and Viacom. All material found on the pages of this site are for promotional purposes only, and not personal or financial gain. No infringements on their copyrights is intended. This is a Star Trek Fan Site for entertainment purposes only.
Star Trek Shadow Operations was created by Gary Gould owned the ©1996-2003 until 5/4/03. As of that date, all Shadow Operations materials are owned by the Game Masters of Shadow Operations. All orginal content of each game is owned by their prespective Game Masters ©2003. All Rights Reserved. The material on any of these pages may not be copied, stored in machine-readable form, or otherwise reproduced, disseminated, adapted, or used without the written or expressed permission of .those holding the copyrights to the material.
Star Trek Shadow Operations is in no way affiliated or endorsed by any individual, corporation, company, or organization, either represented or not represented on this site. All material on this website is purely for entertainment.
.